Hier werden die Awards und Preise für die Gestaltung von Sergej Ivanov's homepage präsentiert!

In this section I will post the awards I received for the well done homepage design!
(Hopefully there will be many more soon...)


---
Herzlichen Glückwunsch!

... Sie haben einen Euro.www.Award in Gold gewonnen.
Herzlichen Dank für die Teilnahme und weiterhin viel Spaß und Erfolg im WWW.
Gerald A. Gsöls

Bewertung:

Design Check		5 von 5
HTML Validity		5 von 5
Browser Compatibility	4 von 5
Link Validator		4 von 5
Load Time		3 von 5









8. November 1998

---
Hallo Sergej!

Du hast Dich zwar nicht dafür beworben, aber ich möchte Dir im Gegenzug meinen silbernen maho911`s
Award übergeben. Auf deiner Homepage beweist Du grafisches Können. Die Auswahl Deiner Menüpunkte
ist ebenfalls sehr sehr groß. Und deshalb hast Du meinen Award auf jeden Fall verdient.

mit freundlichen Grüßen
M. Hopp!


---
Excellence Award For A Foreign Language Site

---
Herzlichen Glückwunsch!
[Du hast einen Automatic Award ergattert!]


---
Welcome to the Mopsicle Award - Mop's Icy Spicy Damn Good Page in a Bucket!
If you've gotten this e-mail and you're not subscribed to our mailing list,
then you've either nominated a site or you're a winner! In that case,
congratulations! Your site has been chosen for its innovation, originality,
presentation and/or effort.

---
Glückwunsch !
Ihre Homepage wurde eben als eine der TOP 100% of all web sites ausgezeichnet!
Ihre Registriernummer lautet: 000284

---
Du hast den "JGO WebDesign Award" von JürgenGerner Online gewonnen!
Achtung! Dieser Award wird nur an WebSites vergeben, deren grafische Umsetzung der darin enthaltenen Informationen absolut hochwertig sind! Du darfst Dich also schon geehrt fühlen!

---
Herzlichen Glückwunsch! Du hast den DeskTOP!-Award gewonnen!
Den Award gibt es ab 75 Punkte, du hast 89 erreicht:
Ladezeiten: 9/10
Übersichtlichkeit: 18/20
Grafiken: 18/20
Effekte (Sound, ActiveX, Java): 17/20
Inhalt: 27/30
-----------------------
Gesamt: 89/100
-----------------------
Punkte-Schlüssel:
                80-100 Unbedingt Ansehen!!
                70-80  Hübsch
                50-70  Ganz nett
                30-50  Aja, äääähemm
                0-30   WAS IST DAS?????




4. Dezember 1997


---
Hallo Sergej,
schöne Seite hast Du da gebaut. Meinen Award bekommst Du hiermit verliehen:
---
Hi there.. and congratulations.. you have just won FiEnD's HIDEOUT's HTML/SITE-award !
---
NGI Cool Site Award

---
Hi... herzlichen Glückwunsch!
Ich teile Dir hiermit mit, das du den Christina Applegate Homepage Special Award gewonnen hast ! Diesen Award erhalten nur Seiten, die durch perfektes grafisches Design, einen ansprechenden Inhalt und einen super Gesamteindruck überzeugen ! Für diesen Award kann man sich auch nicht bewerben, da er nur an Seiten vergeben wird, auf die ich beim Internet Surfen gestoßen bin und die mich begeistern!! Deine Seite ist ein gutes Beispiel wie eine anspruchsvolle WWW Seite aussehen sollte!
bye Holger Johanning
---
"Cool-Site" Nico - "Kampfhund"-Award

---
Hello there my friend, love the new tune!
These are for you,enjoy. You earned them--Later Qbert & Pat

---
Congratulations!
Your homepage is excellent in both design and containts, and is of good quality.
So it is awarded with the Modum WebDesign award.
Continue with the good work, so that others on internet can enjoy it.
Yours Sincerely Modum WebDesign
Geir Palme Flaglien
---
I just got back from visiting your site and thought it was great! So...

Congratulations!!!! You have been selected to receive the "King Of The
Jungle" award for outstanding excellence in your web page design.
Good luck and continued success with your wonderful site!
George Wilcken
---
Congratulations Sergej,
your homepage meets definitivly the criterions for a Prime Navigator Site.
You've been added to our winners list, which will be updated periodically.
Junta de Turismo da Ericeira
(Tourism Board of Ericeira)
Herwig Brunar, Webmaster
---
Congratulations!
Your site has been reviewed by TM's Webratings! Your rating is 86%
Rated by this:

Info            12      15
Grapichs        12      15
Layout          9       10
Organility      10      10
Family/yourself 10      10
Navigation      10      10
Load speed      8       10
Whoa!/Boaring   8       10
Java scipts     3       3
Location        0       2
Screen res.     1       2
Language        1       1
Awards          1       1
Frames          1       1
Total           86      100




1. Juni 1997


---
Congratulations!!!!
I checked your page out, and you meet the criteria, so
here's your Star Status award!
Again congratulations and keep up the good work!!
Lori
---
Congratulations Sergej !
After careful observation and consideration you have been added as a
member to Joe's garage ! If your homepage url ever changes please send me the new url so I can keep
the link to your homepage current. Thanks.

---
Congratulations!
Your site has been awarded the SueGymWebBuilders Award of Excellence!
EXCELLENCE IS WORTH ACHIEVING!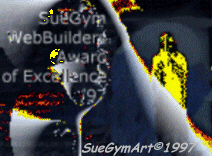 18. Mai 1997




---
The Brainwave Award was very hard to earn. One has to solve ten brain puzzels.
Check it out and try it for yourself !
---
Für Deine Mühe die Du Dir mit Deinen Seiten gemacht
hast verleihe ich Dir den * 3 1/2 * for a perfect site !
Have fun Gismo
---
Diese Seite bekommt von uns den Bronze Award
weil sie sich von den anderen Seiten
in punkto Inhalt und Design deutlich
abhebt.
Dieser Award wurde verliehen von :
Jörg`s Win95 Site und Abend on the Net



5. Mai 1997



---
Sergej,
CONGRATULATIONS !!
YOU RECEIVED A HHH - AWARD !!




Receiver of a HHH - Award for an exceptional page on the Web

4. Mai 1997



---
You've Just Been Jauped! Jaup stands for Just Another Useless Page, but,
if you would view some of the pages you'd see that its quite the opposite.
I hope you decide to obtain this award and congratulations you've got a great page.
---
Den fünften Preis erhielt ich von einem "echten Internet-Guru": Jerry Fiser, der neben seiner "Catfish's Pond page" (von der der Preis stammt) noch eine weitere homepage im WWW unterhält! Es ist die Krewe of Bacchus Home Page, die sich mit "Mardi Gras", dem verrückten Karneval in New Orleans beschäftigt.

My fifth award is from a "real Internet wizard": Jerry Fiser. He has two web sites worth to visit: Mardi Gras in New Orleans at Krewe of Bacchus Home Page and, of course, his Catfish's Pond site from which I got his award.

Hello Sergej!!! I thought you had my award already.......
CONGRATULATIONS! My review of your site made it easy for me to bestow my Catfish's Favorite Site Award. It is very obvious that a lot of thought and work went into designing and maintaining your pages.





23. April 1997



---
Von Joerg Hoheisel habe ich meine beiden vierten Preise, den "WoW-Award" und den "CooL-Award"
erhalten! Seine homepage ist m.E. sehr interessant und gut aufgebaut. Die von Ihm eingesetzten Effekte
sind teilweise sehr beeindruckend!

The two fourth awards I received are from Joerg Hoheisel. In my opinion his homepage is a
"must-visit" because of several "gimmicks" and HTML- and Java-effects!






21. April 1997



---
Sergej,
Congratulations!!!
Congratulations on winning the "Sheer Elegance Award"!!! We Loved your page's, You have some great graphics and your pages are very tastefully decorated... We wish to award you with our award. We look forward to a return visit to your pages for any new and exciting things to be added... Good luck, and God Bless, Tiffnay & Olivia





20. April 1997



---
(Note from Retta Graham - I do the evaluating of sites for Patty)

Sergej, You have a very nice web site. It is unusual and interesting along with being well laid out and easy to move around in. I enjoyed doing the critique for Patty's award since I was able to read it. Thank you for taking the time to include an English version. Your talent plus hard work is reflected on your pages.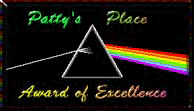 18. April 1997



---
Den ersten Preis erhielt ich von Franz Deckarm. Es handelt sich um den "Vulkan-Award", der für gutes Web-Design verliehen wird! Da es mein erster Award war, habe ich mich ganz besonders darüber gefreut! Der Name "Vulkan-Award" bezieht sich auf die Gegend aus der Franz stammt: die Vulkan-Eifel, in der es zu Urzeiten aktive Vulkane gab.

My first award I received comes from Franz Deckarm . It's the "Vulkan-Award" which is given for great web design! Therefore it was my first award I am quiet happy about it! The name "Vulkan-Award" means vulcan and is referred to the area Franz lives. It is called the Vulkan-Eifel because of the "working" vulcans in the eary day of our earth.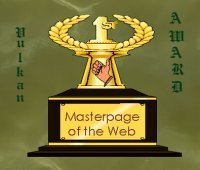 14. April 1997



---


Sie möchten sich um meinen "Stiftung WEB-Test" Award bewerben ?

Sehen Sie sich die stolzen Gewinner des "Stiftung WEB-Test" an!




You want to apply for the "Stiftung WEB-Test" Award ?

Have a look at the "Stiftung WEB-Test" Award winner list ?


---
Frame-Hasser wählen hier !

[ Startseite | über mich | Hobbies | Erfolgsrezept | Links | Auszeichnungen | Gästebuch | Vielen Dank ]

[ Seiten Historie | Frames-Version ]

Copyright © 1997 - 2021 Sergej Ivanov. All rights reserved.
---
no frame users - navigate here !

[ home | about me | hobbies | success | cool links | awards | guestbook | thanx to ]

[ site history | cool frame version ]

Copyright © 1997 - 2021 Sergej Ivanov. All rights reserved.
---